Everyone has heard Shankly's famous quote paraphrased that many times it's become a something of a cliché. A bit like Pele's reference to 'the beautiful game', Kenneth Wolstenhome's "they think it's all over…it is now" and Graham Beacroft's classic quote during his commentary of a Tranmere match for Radio City: "Aldridge is through, he must score, he's hit the pope [sic]"




But, not many people may have heard the former Liverpool manager utter some of these immortal lines (Any Reds reading this should probably skip the next few paragraphs):


Upon his retirement from the Anfield bootroom, Bill Shankly was all but cut off by the club, this is what he had to say about it:

"I have not been short of invitations to other clubs and have been received more warmly by Everton than I have by Liverpool." Maybe we should move that statue of him and put it next to Dixie's, it'd probably feel more at home there!


He also eulogised the game's greatest ever goalscorer in a way that few Evertonians could put as well. On introducing Dixie Dean at a function, Shankly said:

"Today we are joined by a man who ranks amongst the greatest there is, Shakespeare, Rembrandt and Bach, this man is Dixie Dean". Wise words indeed.


But, Shankly aside, there have been innumerable Everton-related quotes that should have breezed their way into the Plain English Campaign's top 10. Most conspicuous in it's absence is probably Andy Gray's rebuff to, Bayern Munich manager, Udo Lattek after he questioned Everton's performance in the European Cup Winners Cup semi-final second leg. Upon being completely turned over, in more ways than one, in the second half of that match, Lattek complained that "That was not football, that was war". Andy Gray, succinctly replied:

"F**K OFF! We're in the final and you're not!" That's probably about as plain as plain English gets really! [article continues below]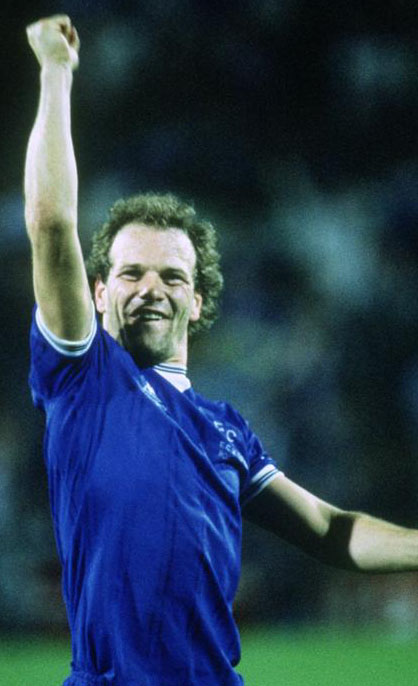 "EFF OFF!"

Or Joe Royle's swipe at the press after the Blues leathered Tottingham in the 1995 FA Cup semi-final, thereby depriving the nation of the 'dream' final of Man United v Spurs:
"Sorry about the dream final lads. And that's bollocks with a double L!"

Then there's Brian Labone's often paraphrased classic:
"One Evertonian is worth 20 Liverpudlians!"

Kevin Sheedy's explanation of one of the funniest ever goal celebrations made by anyone wearing an Everton shirt is also a gem. It was April 1987 and Everton met Liverpool at Anfield as the two teams were battling for the Division One Championship. Everton won a free kick at the Kop End and, after Sheedy had duly dispatched his dead ball past Grobelaar, he flicked the V's at the home fans. As he explains:
"I usually just put one finger up signalling a goal, but, it being the kop end, two fingers automatically went up. I got hauled up in front of the FA and I was like Ted Rogers trying to go from two fingers to one and trying to convince them it wasn't a v-sign."































I think my personal favourite was, allegedly, uttered from the lips of Howard Kendal as he signed Peter Beardsley from Liverpool. After he offered Beardsley a tot of Whiskey, to toast his arrival at Everton, the jinky Geordie turned him down, saying: "No thanks Mr Kendal, I don't drink."
To which Howard replied: "You soon will do son!" Or so the story goes…

To anyone who's interested, here's the run down of the top 10 footballing sayings, as compiled by the Plain English Campaign after a survey of 10,000 fans:

1. Bill Shankly: Some people believe football is a matter of life and death. I'm very disappointed with that attitude. I can assure you it is much, much more important than that.

2. Eric Cantona: When the seagulls follow the trawler, it's because they think sardines will be thrown into the sea

3. Paul Gascoigne: I never predict anything, and I never will.

4. Kenneth Wolstenholme: They think it's all over... it is now!

5. Graham Taylor: Do I not like that!

6. John Motson: I think this could be our best victory over Germany since the War.

7. Jimmy Greaves: It's a funny old game.

8. George Best: I spent most of my money on birds, booze and fast cars. The rest I just squandered

9. John Motson: The World Cup is a truly international event.

10. Ron Atkinson: If Glenn Hoddle said one word to his team at half time, it was concentration and focus.