Unsworth: Left leg like a 16th century cannon.
Ok, here's a quick summary of what I took away from the game against Fulham. Number one, were actually one pretty good side when we play to our strengths. Number two, Thomas Gravesen should try this hard all the time. Number three, David Unsworth should not do any more weights on his left leg, and then he might be able to play short subtle balls rather than every pass resembling the opening manoeuvres of a tank battle. Fulham won't win anything this year (more on that one later)
There are more, but those are the three that struck me. I have to be honest, I very nearly cried when the second goal went in on Saturday. I have only been able to get to three games this season, and was not overly impressed with either (although I'm aware we have been playing well!), but I have to say I was utterly amazed at the quality of the performance. I have not seen us show such total dominance over another team for years.
The passing was sharp, clean yet direct, the movement (in particular from Campbell and Radzinski) was excellent, and no one stopped running all day (special mention to Mark Pembridge, who despite being obviously knackered kept going right until the end). If we play this well all season we will easily be a top 10 side, maybe even better than that.
The addition of Joseph Yobo and Richard Wright to the squad has made a huge difference. I have always said that defensive problems are easier to solve than attacking ones, but with limited resources, it was always going to be hard for David Moyes to plug the gaps in the back line. I have always liked Alan Stubbs, but in the new look Everton, he has seemed out of his depth. Credit must go to David Moyes for picking up two excellent players at very good prices.
Moyes is also not afraid to alter his tactics, something that Walter Smith (as much as I liked the guy) was never really able to do. Everyone was expecting a 4-3-3 formation on Saturday, however, Moyes obviously realised that Fulham's strength is their midfield, and dominating the middle of the park became a priority, hence the inclusion of both Gravesen and the impressive Carsley. There seems to be a real sense of competition for places in the squad at the moment, and you can tell that everyone is very much on their toes.
It is good to see us playing such attacking football, and four goals in our last two games speak volumes for our attacking potential, indeed, we could easily have had four on Saturday if Radzinski had been slightly luckier and slightly more accurate.
Now, back to Fulham; they are a good side, no doubting that at all, they play good football and have some very talented players, especially in midfield. However, if I were a Fulham fan I would be worried, simply because when they were two goals down, they had 45 minutes during which to up the tempo and get something from the game. They didn't. Even with 10 minutes to go when most other teams who have been gung ho in attack, they continued to try and pass the ball into the net, on one memorable attack three shooting opportunities were passed up on the 18 yard line in favour of trying to thread the ball through, and the attack fizzled out.
With Everton playing so well, it is unlikely that anyone will find themselves relegated to the bench in a hurry, which brings about the question of those already on the bench. Alan Stubbs will have to work to regain his place, but will get games, as Yobo and Weir are bound to have injuries and suspensions to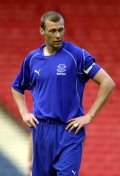 Ferguson may struggle to get into the side fit or not.
deal with. Wayne Rooney has nothing to worry about. He is being rested and paced by Moyes, and the fans should appreciate the manager's caution. We may have a brilliant 16 year old, and I'd like him to develop into a fit 20 year old.
The biggest question mark hangs over Duncan Ferguson. He is still fighting for fitness, and winning by all accounts, however, he is no longer fighting for a place in a struggling side. As a target man, he could only come in for Radzinski or more probably Campbell, both of whom are playing extremely well in a good attacking side. Ironically, it may not be Ferguson's fitness that keeps him out of the side, more the fact that the quality of the squad has advanced beyond his level.