Actually, it just sounds absurd and is reminiscent of Peter Johnson's 1997 assertion that Evertonian's would be 'pleasently surprised' by the appointment of a high profile manager following Joe Royle's departure.
And I think it's fair to say that he was half right as everyone was very surprised to see the Dome come back for his third stint in charge of the Blues!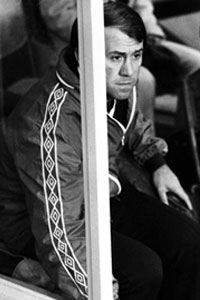 And, so to this summer....
Back in July Sir Philip Carter, Everton's life chairman, told of how Everton's transfer plans were looking exciting saying : "I think it's quite an exciting time. As a previous chairman, I always found it exciting when you were looking for new players that the manager had identified."
Now, to be fair, he may have been taken out of context as it can be read that he thinks pre-season in general is an exciting time, but it was taken that he meant
this
pre-season.
And, given the end to last season, new faces were surely on the horizon to move the sqaud forward once again.
There was no way we were going to repeat the mistakes of last season!
But, once again we have!
A few youth and, at best, fringe players have been added to the squad and Lescott's desire to leave Everton looks like it's having the exact same effect as Moyes' reluctance to sign a new deal last summer.
Everton's success has been built on a solid team ethic with everyone giving 100 per cent and pulling together.
Everton's sum total is greater than it's parts so if one of these parts, be it the manager or a player, doesn't seem to be pulling in the same direction then things fall apart.
Last season we didn't win a home game until November 1st when Louis Saha's 87th minute header was enough to take three points off Fulham.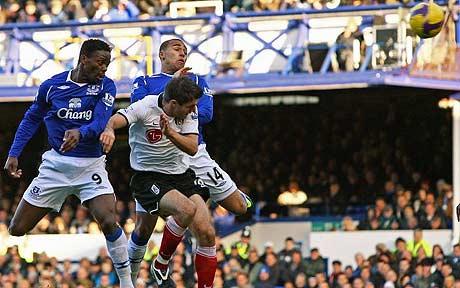 By that stage we had already lost some serious ground in the league and were out of the Carling and UEFA Cups.
And, if things aren't sorted out quickly, it finally looks like this could be the season when we're going to be lucky to even tread water!
Given that the top four of previous seasons will finish as the top four again this season, we'll have the threat of Aston Villa, Tottenham brushed the shite aside with ease on Sunday and are loking good and then there's Manchester bastarding City!
Last season David Moyes put pen to paper on a new deal on October 14th and in the 10 games prior to that we'd won just two.
The 10 matches following Moyes signing a new deal saw us win five and we never really looked back from that point.
The whole club had pulled together once more and David Moyes must now make sure this happens again.
Let Lescott and his disruptive presence leave, take the stick that will clearly come from Mark Hughes and Man City then get on with the job of ensuring we finish higher than them whilst it's still in our hands.
Yes we've been beaten 1-6 at home by Arsenal on the opening day but opening day defeats are nothing new to Everton, nor are defeats to Arsenal.
But we have to stop the rot before it sets in, let those who don't want to be there leave and get in some players that want to play for Everton.
Let the millionaires sqaubble amongst themselves over who can offer the highest wages or pay the biggest transfer fee.
That's not what this Everton team is about, let's get on with what we are about, starting against Sigma Olomouc on Thursday!
Allez les Blues!