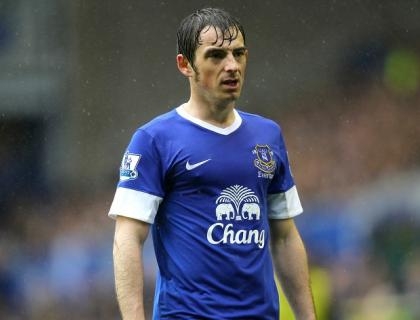 The England defender was one of the players immediately linked with a summer transfer following the departure of boss David Moyes to Manchester United. However, the 28-year-old is eager to start work on a new philosophy under Martinez and believes he and his team-mates can make it effective at Goodison Park.
One of the criticisms of Martinez is that he did not win enough games at Wigan and despite lifting the FA Cup he took the team down after eight years in the Premier League. But Baines looks at the Spaniard's work far more positively, and said: "He was one of the first names linked with the job and the feeling straight away was he would be a great appointment."
He added: "He has a different style to what we have been used to but I think it is progressive and it will move us forward. It is also exciting for the players to be able to try that now.
"The style in general appeals to a lot of people. Wigan were a great side to watch - they just didn't win enough games.
"But the manager will be working with some better players here and he will be looking forward to that as well now, being able to put his plan out there.
"We have got good players at the club who could probably execute the style of play better than the players he's worked with before, without being disrespectful to them.
"He might have a little bit more confidence in the players - I am sure he had confidence in the players he had then but here are some really top players he can look forward to working with.
"We have time to work on it, whether it is a different style of play or whether the formation changes.
"By the time we kick the first ball of the season we will be well-versed on what he wants to do."
Source: PA
Source: PA