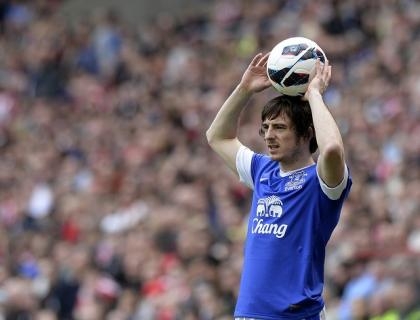 The Spaniard described the 28-year-old defender as "phenomenal" and said the standard he had produced over the last couple of years made him the best left-back in the country. Everton have turned down a £12million bid from United after David Moyes returned to his old club in an attempt to cherry-pick one of their prized assets.
While that offer was rebuffed, the Old Trafford club are expected to come back with a significantly improved figure but Everton have stressed Baines is not for sale and want him to extend his contract beyond the existing two years he has remaining.
Baines is about to enter his seventh year at Goodison Park and Martinez believes the Kirkby-born player has become the standard bearer for everything the club represents.
"Leighton is a phenomenal performer and has become a very consistent player for Everton," he said. "A lot of people get upset when other clubs show interest in their players but I feel it is compliment. Leighton is vital for our future and what we are going to achieve at the club.
"The level that he has been reaching over the last few years consistently shows me that he is the best left-back in the country."
Martinez is focusing on making additions to his squad not worrying about potential departures. The Spaniard is keen to bring in the right characters and while he insists he will not be rushed in that search two arrivals are imminent.
Press Association Sport understands deals for his former Wigan players Arouna Kone and Antolin Alcaraz are almost done. Striker Kone is likely to cost the Toffees £5million but centre-back Alcaraz will arrive on a free transfer once his contract has been finalised.
"They are players that I know really, really well. I worked with them really closely and they are players that are used to the Premier League and the British game," he told evertontv. "You will always get those sorts of situations but at the moment we are still looking to try to bring the right characters to the football club.
"We need to remember that we have a very strong team at the club, but in the same way we don't want to close the window without feeling stronger than we were when the window opened. I'm sure that we will have many other names mentioned and hopefully we are going to get the right characters to represent our football club."
Source: PA
Source: PA