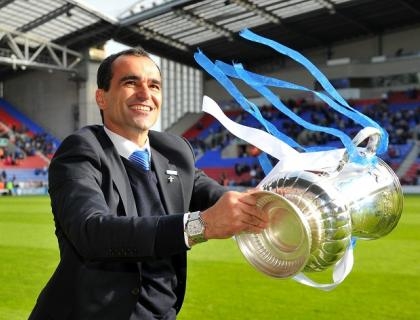 With compensation agreed with Wigan on Monday negotiations are continuing with the Spaniard before he can be confirmed in the post.
"It will be fascinating. I think he'll be a breath of fresh air," he said.
"The way he plays the game, the fans are going to like the style, and I think the players are going to improve, and that's really important.
"There will be a bit more attacking play. The players have done really well defensively and it won't harm the team to be a bit more expansive going forward.
"The restrictions will be removed from some of the players. Everton have wonderfully gifted players and I think he will give them a new lease of life. It would be nice to see the team score more goals."
While former manager David Moyes managed a top-four finish just once in 11 years Campbell believes that has to be Martinez's target.
"Everton have to be looking at a Champions League spot," he told talkSPORT.
"Under Moyes they broke the monopoly and got in there, and over the years they've proved they can beat the top sides. Under Martinez they can be a bit more expansive and score more goals and that will make them even more dangerous.
"Being tough to beat is ingrained in them, but scoring more goals could make a massive difference."
Source: PA
Source: PA