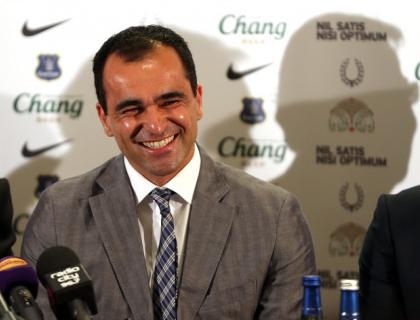 He accepts, having been in the job for less than a fortnight, that may take a while. But he believes being patient will pay off as it allows him to make the right decisions about who he needs to bring in.
"As you can imagine, that is something that you need to work early on and obviously the whole football club will work together towards that," said the Spaniard.
"There is some work going on already and over the next few weeks we need to make sure that we bring the right characters as well as the right players to the football club.
"It's not going to be the case of bringing anyone at any time - it's important we identify the type of help we need in the dressing room and in the team and make sure they are a type of footballer who will fit in with the train of thought at Everton. It's more a matter of finding the right players and that will take a little bit of time."
Martinez, who will not meet his entire first-team squad until they join up for pre-season training next month, is hoping to get some scouting done at the Confederations Cup. The Toffees boss is working as a television pundit in Brazil and he hopes that will give him a chance to take a closer look at potential targets.
"I think the major events are a first for seeing players and ways of playing," he told evertontv.
"It's always a unique experience to see footballers under massive, massive pressure of representing their country and representing the expectations of a country and being able to play their football.
"There are always footballers that catch your eye under those circumstances.
"I always like to follow the big events and to do that with the name of Everton and opening new markets with Everton, it will be a real enjoyment and something I'm really looking forward to."
Source: PA
Source: PA