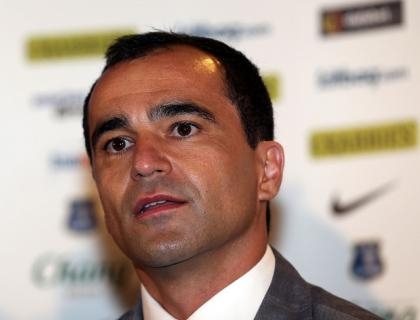 The highly-rated 19-year-old scored 18 goals for Barcelona B last season and made a number of substitute appearances for the first team. New Toffees boss Roberto Martinez described the player as a "diamond" of Spanish football and there is no wonder considering the calibre of player he works alongside every week.
"Obviously training at Barcelona is a fantastic experience," said the teenager, who will spend a full season at Goodison Park.
"You train alongside players like Lionel Messi and Andres Iniesta, who are clearly some of the best players in the world. You obviously learn from them and it is a very nice experience.
"I'm an attacking player and I can play wide. I'm quite quick, quite decent at one-on-one situations and I'm looking forward very much to helping the team.
"I am very keen to get started and am delighted to be at such a big and historic club. I follow the Premier League quite a lot. It is one of the best, if not the best league, in the world."
Martinez's capture of Deulofeu is considered something of an achievement as there were a number of other clubs interested in the youngster.
During his time at Wigan the Spaniard gained a reputation for nurturing young talent - like Manchester United's Tom Cleverley and his own player Callum McManaman last season - and Barcelona's hope is that he will do the same with their prodigy.
"I know him. He did a great job at Wigan and we have spoken on the phone and I look forward to meeting him soon," Deulofeu told evertontv.
"I'm really looking forward to meeting my new team-mates and getting started. Obviously I have got a few days' holiday coming my way because I have just finished in the (Under-20 World Cup) tournament but I can't wait to get started."
Source: PA
Source: PA