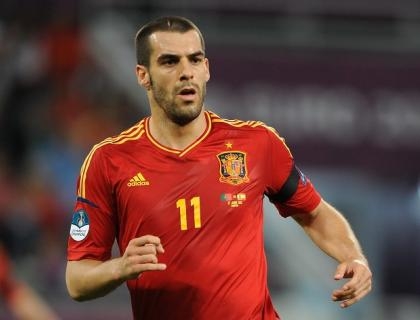 Moyes had hoped to secure the signing of Fer before the kick-off of Wednesday night's 2-1 win over West Brom but the deal collapsed after they tried to renegotiate payment of the £8.6million deal with FC Twente when the player's medical identified an issue with a knee problem.
While Moyes was downbeat about his chances of bringing anyone else in place of Fer, Press Association Sport understand the Toffees are interested in Negredo.
The 27-year-old Spain international, who has been linked with Tottenham this month and could be available on a cut-price deal from his financially struggling club, is a more advanced player than Fer so would not be a direct replacement.
On Wednesday night it was Leighton Baines who provided the fire power with two first-half goals, before substitute Shane Long pulled one back after the break.
Afterwards, Moyes expressed his disappointment the Fer deal had not come to fruition.
"He is not our player but it is right we look after the boy and it didn't work for the reasons it didn't work," said the Scot. "The boy is a very good player and we wish him well but on this occasion we just couldn't quite conclude the deal.
"There are lots of things connected to signing a player: it could be a contract, it could be the agent, it could be the clubs and medicals as well. On this occasion some of them didn't come together. It is very late now so I don't know if we will be doing anything."
Baggies counterpart Steve Clarke had planned to maintain his squad as it was but a potentially serious knee injury to George Thorne, who was carried off on a stretcher, could prompt a rethink.
"It was never in my plan to bring new faces in during this window, we wanted to keep the squad we've got," he said. "As a result of George's injury we'll have an early-morning meeting and see what is best for the club. We only have today to do it."
Source: PA
Source: PA