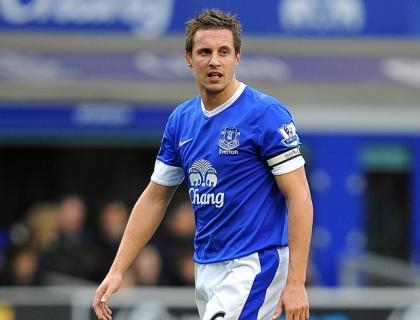 This week the club, which has debts of £46million, announced losses of £9.1million and Moyes has long since admitted there is no money to spend in the January transfer window. But even against that backdrop experienced players like Jagielka are prepared to commit their long-term future as a two-year extension will now keep him at Goodison Park until 2017.
"Over the years Everton have been one of the biggest clubs in this country," said Moyes. "Maybe at times it has been hard but you can't take away Everton's position in football in this country. I think Phil Jagielka has signed for a really good club, he's a really good player and we're delighted to have him."
He added: "Phil has been very good and it is good news for us because at the present time he is one of the England centre-halves and hopefully he will be at the heart of what we do at Everton for a long time to come."
The club readily accept they have to sell players to help manage the finances - as the summer's £12million sale of Jack Rodwell to Manchester City highlighted.
Last season midfielder Marouane Fellaini signed a new five-year deal, just over a week ago defender Seamus Coleman extended his stay until 2018 while veterans Sylvain Distin and Phil Neville are expected to sign new contracts in the coming weeks, while midfielder Leon Osman is to be offered an extension.
Moyes added: "I think that (Distin signing a new contract) is a good possibility as well."
Moyes said the example set by Jagielka, a £4million signing from Sheffield United in 2007, was synonymous with the Everton ethos.
"He was always going to be a centre-back, he was never going to be a right-back or midfielder but at that time it was easier to break him in (in those positions)," added the Toffees boss.
"It took him a while to get into the team, as it did with Leighton Baines, but it shows you with a bit of hard work and dedication they have turned out to be really good signings. He has been excellent since he came here and has worked his way into the England squad which is really important for him and for us and he deserves that."
Source: PA
Source: PA