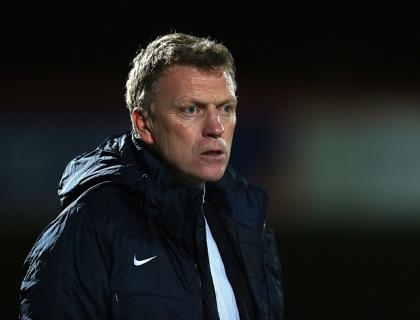 Moyes made several changes for the game against Leeds and was disappointed when his side were beaten 2-1. But he fielded a virtual full strength line-up at the Abbey Business Stadium and goals from Nikica Jelavic, Leighton Baines, Leon Osman, Seamus Coleman and Marouane Fellaini secured victory.
Moyes said: "I don't know if it was the strongest Premier League side put out this weekend or not but it could be folly if I had picked up injuries. Then it would have been made to look a bad decision. But I was disappointed when we lost our League Cup tie to Leeds United. I gave a few players a go and I didn't think we came up to scratch."
He continued: "I wasn't going to take a second chance, that's for sure. I just felt we needed the people who knew what was going on. It was a very professional job. We did a job. I wanted to try and progress in the cup if we can. We've got a bit of momentum and we want to try and keep it going if we can.''
Moyes even included full-back Leighton Baines despite him having to nurse an ankle injury.
He said: "Leighton has got a bad ankle problem which I need to watch and be careful with. I thought we needed him because we have to respect the players at this level as well and what they offer to the game. It was really important we didn't treat it any differently."
Moyes dismissed social networking reports that striker Victor Anichebe is to join Reading. He said: "Anichebe to Reading? No, no truth in that. We won't be selling anyone, if I have my way that's for sure."
Cheltenham could only manage a solitary reply from Russell Penn and Robins manager Mark Yates said: "Scott Brown had only two saves and he didn't have a chance with any of the goals.
"But we were up against top goalscorers. It was a ruthless performance.
"We came up against a very good side but hopefully they know they've been in a game.''
Source: PA
Source: PA