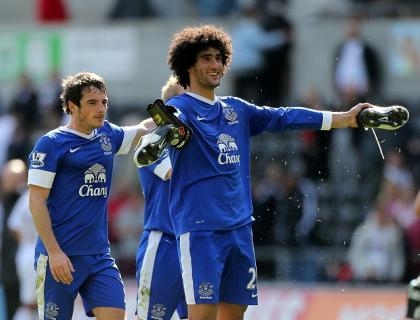 Left-back Baines was the subject of an offer from Manchester United last month while Fellaini has also been linked with a move to Old Trafford to join former Everton boss David Moyes.
There have been rumours that Moyes will return with an improved offer for Baines but Martinez, who succeeded the Scot in the Goodison hotseat, insists that has not yet been the case.
Martinez said on Sky Sports News: "Not at all. And I know that probably that's not something that you want to hear but it's clearly what it's been in the last two or three weeks.
"Everyone is really focused to try to fight for that starting spot at the beginning of the season. The competitive level in this group is quite impressive.
"I wouldn't want to stop the speculation, I do think the speculation is healthy.
"If we've got clubs talking about our players, I'll take it as a compliment because the players have been impressing and doing really well.
"But we are in a great position financially and we want to start the season with the best possible squad that we have, and for that we have to work extremely hard."
Asked if he was surprised the club have not received another bid for Baines, Martinez added: "The last concern I have is what other clubs are doing."
Source: PA
Source: PA