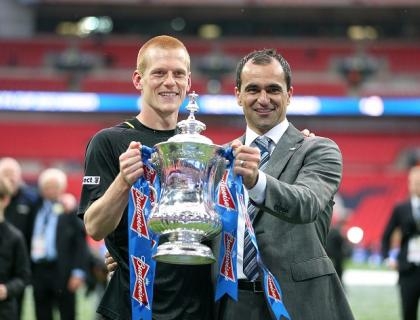 The Spaniard has signed a four-year contract to become Manchester United-bound David Moyes' successor at Goodison Park and the Toffees' 14th permanent manager in 135 years.
Martinez, 39, leaves Wigan after four years which ended with him winning the FA Cup but also getting relegated. "It is a real special day to come to Everton and have this feeling already of excitement and honour and I'd like to thank the chairman (Bill Kenwright) for this opportunity," he said at his unveiling press conference.
"There is huge pressure but I am extremely proud of that pressure because it means what David Moyes did in 11 years is set high standards and lay an incredible platform.
"I feel lucky to be able to carry on that work. He has given Everton an identity and an incredible standard and all I want to do is be humble and hard-working enough to take this magnificent job to the next level."
Asked why he had chosen now to leave Wigan, having turned down Aston Villa and Liverpool previously, he added: "It is simple: it came in a natural way. It has been a phenomenal time at Wigan but after four seasons this was the right time and I knew Everton was the right club. It has been a natural transition to be involved in such an exciting club."
Martinez said his aim was to get Everton into the Champions League - which Moyes managed just once during his reign - but that it would not be immediate.
"The chairman hasn't put any pressure on me," he said. "We have a very strong team and over the next few months we need to get together and make sure we are a winning side."
Martinez added: "The aim for Everton should be to get into the Champions League. That doesn't mean next season but that has to be the aim for the future."
Kenwright said the first time he met Martinez he was virtually convinced he was the right man. "When David (Moyes) first came to see me, he sat down 11 years ago and we were in a bad state, and he said 'we're not going down'," said Kenwright. "Almost Roberto's first words to me were 'I'll get you in the Champions League'."
Source: PA
Source: PA