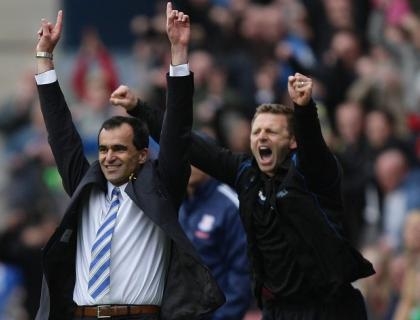 Martinez, who along with Jones has brought three key members of his Wigan backroom staff with him to Goodison Park, has earned a reputation for getting his teams to play attractive football. It is a more open, possession-based style than the current Toffees squad have been used to under predecessor David Moyes.
"I think the key here at Everton is to get the balance between what's gone on before and what we can bring to the table," he said.
"What Everton have achieved is sixth place in the Premier League, which is fantastic. We need to match that and do better over a period of time. It's a great challenge."
Many of the squad returned to pre-season training on Thursday, with others who have had international commitments staggering their return, giving Martinez and his team a chance to get their first look at the players they will be working with.
Not that many need introductions as Jones said they were well aware of what they had inherited from Moyes.
"It's a fantastic group of players. That's there for everybody to see," he told evertontv.
"More than talent, you have to look behind that and you can see the character of the players. I won't forget the game at Wigan in October when they were 2-1 down with half an hour to go.
"The impression from being on the opposite management team was that this group of players aren't going to stop until they get something out of the game (it finished 2-2 thanks to an 87th-minute Leighton Baines penalty).
"It was such a positive statement. Then you come into the club and you hear about the quality of the people not just the quality of the players. That's what's exciting because it is a great platform to start work on."
Source: PA
Source: PA