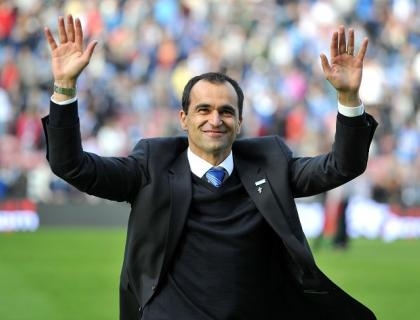 The Spaniard held talks with Toffees chairman Bill Kenwright last week and Whelan revealed a deal has now been agreed to buy out the remaining year of Martinez's contract.
He told BBC Radio 5 Live on Monday night: "I've reached some terms with the chairman, Bill, of Everton about six o'clock this evening. He can now talk to Everton because Bill and myself have sorted the compensation."
Martinez had already held talks, with Whelan's permission, but is now free to discuss contract terms.
"He'd spoken to Everton because I gave them permission," Whelan said.
"When he came back and told me how it had gone, it had gone very well and he was probably in the last two or three on the list.
"Then the chairman rang me and discussed the compensation deal with me, and we agreed that this evening."
However, Everton responded with a statement on their website in which they insisted no appointment is imminent.
The statement read: "In response to regrettable and somewhat premature reports earlier this evening, Everton Football Club are continuing discussions with regards to the vacant managerial position. Whilst positive moves are being made, the club will officially announce details as and only when they are agreed and completed."
Martinez, 39, was linked with the Everton vacancy almost as soon as David Moyes' departure to Manchester United was confirmed.
Source: PA
Source: PA