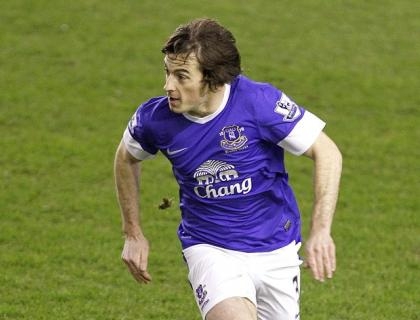 The 28-year-old, whose England career has been affected by Chelsea's Ashley Cole being first choice in front of him for so long, opened the scoring with a fierce drive before adding his second from the penalty spot after Claudio Jacob fouled Victor Anichebe in the 2-1 win over West Brom.
"I think Bainesy has been playing really well and over the last couple of games I've been thinking he needs another challenge," said Moyes. "He has to rise to it a little bit more and I think he has done that. He has picked himself up again. He has a lot of things going for him and he is turning out to be as good a left-back as there is."
He went on: "He keeps getting better when teams try to stop him, he tries to work on how he can alter doing things and he is a really good player. He is great for a manager because he wants to keep improving and we are very fortunate to have him here.
"He is carrying his ankle (injury) a bit but he misses no days of training and he gets on with it so he is a great player to have but he is also a great player to work with.
"He is a really good footballer, intelligent - apart from his style of hairdo I think he is all right."
West Brom boss Steve Clarke was left to bemoan his side's poor opening 45 minutes which contributed to extending their run to one point from a possible 15.
"If you go 2-0 down in the Premier League it is difficult to get a result," he said.
"We had a go in the second half but the key moment was the penalty on half-time - if we'd come in 1-0 down we would have had more chance of getting something from the game.
"I don't think we were great tonight but I don't think Everton were particularly great either, it was a nothing game. We were quite comfortable until we gave away a bad goal but even after that I thought we were in a decent place and the penalty on half-time made it much more difficult."
Source: PA
Source: PA