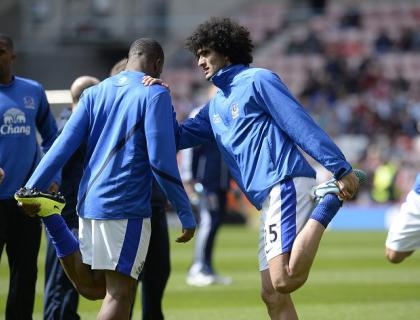 The Belgium international has a £24million buy-out clause and has long been linked with a move away with Chelsea and Manchester United - the latter now managed by former Toffees boss David Moyes - two of the clubs reportedly interested. And Kenwright has promised new manager Roberto Martinez he will receive 100 per cent of any income from sales.
"He talked about a couple of new signings and he talked about the squad and asked 'Do they need to go?'," said Kenwright of his discussions with the 39-year-old. "I said 'No, they absolutely do not have to go' (although) there is one (Fellaini) that has a get-out which everyone knows."
Kenwright added on their talks: "He was as interested in what I wanted as much as what he wanted. I said to him 'I can't sit here and give you a line because we all know money is everything in football - this is the money we've got and I will try to improve on it'.
"We are desperate to find new owners and new investment but he will get support from everyone at the club and all the financial support - and by that I mean if he sells someone he won't get 80 per cent of that he'll get 100 per cent. Plus he has a certain amount of money for the transfer window which David was going to have."
Everton finished sixth last season with the smallest budget of both the clubs above them and of neighbours Liverpool, who finished below them. Martinez had to work on a tiny budget at Wigan, regularly coping with selling one top player every season, but managed to make a £20million profit in four years while reducing the club's wage bill by a quarter.
Kenwright will not make the same demands on him at Goodison Park but he hopes his new manager's abilities as a coach will help move the club forward with the Spaniard setting up Champions League qualification as the long-term target.
"If one manager has shown the value of tactical nous over the last 10 years it was David Moyes - and that is what Roberto instilled in me," he added.
"You cannot beat the money week in, week out but you can build something where you get a share of that money and the minute you get into the Champions League it is a different world already.
"With the fair play rules which are coming in maybe there is the possibility of getting into the Champions League."
Source: PA
Source: PA