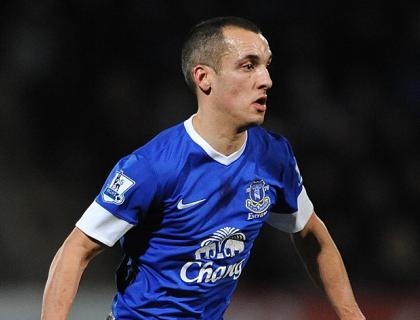 The midfielder helped Everton reach the fourth round of the FA Cup when he was one of the marksmen in a 5-1 triumph at Cheltenham on Monday night. Osman finally made his England debut last November against Sweden at the age of 31 but silverware has so far eluded him.
Osman said: "I've been made aware that this weekend will be 10 years since my debut so it will be a nice occasion. I have great memories of those 10 years but I don't think we've won anything since I've been playing. I'd love to finally win something for the club."
The FA Cup represents Osman's realistic chance of realising that ambition this season and Everton boss David Moyes fielded a virtual full-strength side at Whaddon Road.
Osman said: "The manager signalled his attitude towards the game. He put a strong team out and we went out there with the attitude that it was going to be difficult and we had to perform. We got to the semi-finals last year and there is a real determination to do well every year.
"You need a bit of luck in the cup and you need to perform on the occasion. We are looking to do that in every round we can this year.
"The draw for the next round (away to Sunderland or Bolton) is difficult. You are always looking for a home draw in the cup. But we put out a strong team at Cheltenham and we are hoping to go as far as we can in the competition."
It is typical of Osman that picking up the three points against the Swans is of more importance to him than marking his own 10-year landmark. He said: "That will be nice but it's more important we come away with the three points.
"Swansea have been playing some great football this season and have got a lad who is top of the scoring charts in Michu. He has been performing outstandingly well. It is going to be a tough game but we will go into it with confidence as well.
"We've been performing well ourselves recently."
Source: PA
Source: PA