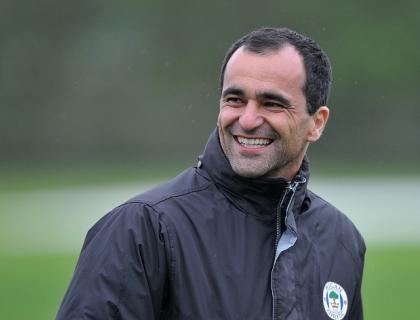 Latics chairman Dave Whelan admits he has struck no deal to prevent the Spaniard returning to cherry-pick their top stars, but if he does he will not get favourable treatment.
"If Everton want to sign any of our players for the right amount of money we will consider it," he told Press Association Sport.
"There is no agreement (to prevent Martinez returning for stars he nurtured at the DW Stadium). It is unfair and I don't believe in anything like that. It is normally the case certain players want to play in the Premier League and I can't blame them for that. Players sign contracts but sometimes one or two want to leave and it is difficult to stop them.
"Players are players and I believe in freedom in football. But we have a lot of players who are loyal to Wigan Athletic so we will just wait and see."
The Toffees have yet to conclude negotiations with Martinez over their vacant manager's position, but he is slowly edging closer to being confirmed as David Moyes' successor. Whelan is believed to have negotiated compensation of about £1.5million, but there may be further haggling required in order to secure a number of his trusted lieutenants.
With Moyes' coaching staff still on the books - there has yet to be any confirmation of which, if any, he will be taking to Manchester United - it remains to be seen what changes will be made. That may complicate Martinez's requirements as he is almost certain to want to bring assistant Graeme Jones, who followed him from Swansea to Wigan four years ago, and most likely others as well.
Everton are unwilling to be drawn into any pronouncements, public or otherwise, until the deal for Martinez is signed and sealed. They were moved to issue a statement on Monday night highlighting "regrettable and somewhat premature reports" - emanating from Whelan - that their search for a manager had been concluded.
Former striker Kevin Campbell believes the Spaniard will have an immediate impact at the club.
"It will be fascinating. I think he'll be a breath of fresh air," he told talkSPORT. "The way he plays the game, the fans are going to like the style and I think the players are going to improve, and that's really important."
Source: PA
Source: PA