Croatian crumpet
By Les Roberts
Updated Thursday, 30th July 2009
Views: 59
I can never resist a bit of mild 'carry on' style sexism when doing the headlines for Everton Ladies...this one refers to their trip to Croatia for a Champions League qualifier.
Everton Ladies kick off their season tonight with a game against WFC Osijek as they try to make it through to the final 32 of the UEFA Women's Champions League.

But, unlike the men's competition, this won't take the form of a straight two-legged knockout, rather a five-day tournament that will see the Blue Belles play Strommen from Norway and Estonia's Levadia Tallinn.

The mini-tournament is spread across seven groups and the winner of each will join the other 25 teams that have already been given a bye to the knockout rounds.

And, in true Everton style, we get a really tricky draw as one of the teams we face, tonight's opponents Osijek, are the tournament hosts!

Typical!

So what can we say about tonight's opponents that hasn't already been said?

Well, not a lot really as hardly anything's been written about them - anywhere - and, as is always the case with women's football, it's almost impossible to find anything out about any of the opposition!

And there's also a dearth of information on both Saturday's opponents, WFC Levadia Tallinn, and Tuesday's opponents Strommen.

So it'll just be a case of watch this space and see what happens...

And, I've no idea if this is a picture of a WFC Osijek player, this is just what google images threw up at me in addition to this crazy website, no idea what's going on other than the building of some little gazebo...odd!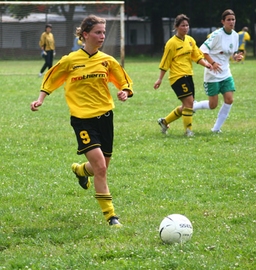 The pitches at the Vernon Sangster are better than this....
Interact with us