Back in Yak
By Les Roberts
Updated Sunday, 8th August 2010
Views: 29
Should they sell Carlton Cole to Stoke, it's thought that West Ham will make an improved offer for Yakubu.
So they'll be replacing an overrated striker with an overweight one!
Ooooh...get you!!!
If pre-season is anything to go by then Yakubu has fallen right down the pecking order at Goodison as he has only played 14 minutes of football since the World Cup.
The Nigerian has hardly been part of the pre-season set up and his only appearance has been as a late substitute against Wolfsburg.
West Ham are looking to fleece Stoke to the tune of £12 million for Carlton Cole and the Hammers' boss is reportedly prepared to spend £7 million of that money on Yakubu.
Which, quite frankly, Everton would be mad to turn down given Yakubu's form since returning from injury.
In other news, Mikel Arteta has said his decision to stay was because he realised how important he was to the club.
Upon signing his new deal Arteta said:  "What this summer has made me realise is how important I am to the Club and how important the Club is to me."
And I guess getting paid  £75,000-a-week for your services would make you feel quite important!
Also, why did the club choose to go with this pretty absurd picture of the Spanish schemer, presumably doing his best impression of Enrique Inglesias...or possibly even Julio?!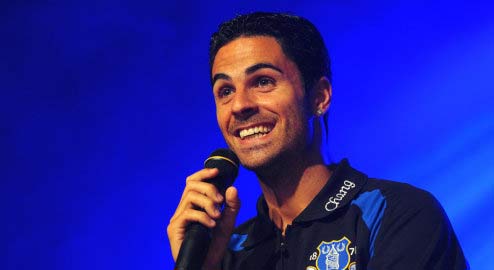 Interact with us