More from the window...
By Les Roberts
Updated Tuesday, 26th January 2010
Views: 27
Senderos is here, Beckford might be and Huntelaar won't be!
First off, let's get Senderos out of the way...
The Swiss defender was a revelation during his first season at Arsenal but it has been generally accepted that he's rubbish these days and Arsene Wenger rarely lets decent players go.
He spent much of last season on loan at AC Milan but made only 15 appearaces for the Italians...so they obviously rated him highly.
But he's with us for the remainder of the campaign and, as talented as Wenger is for letting players go at exactly the right time, Moyes has been known to polish the occasional turd so cross your eyes that he does it again.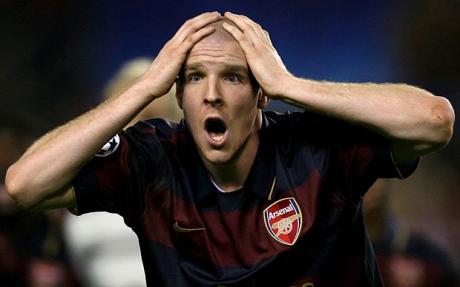 Another player that may be on his way to Everton - this time in one of those rare permanent deals - is Jermaine Beckford.
The Leeds striker is said to have signed a pre-contract agreement with the Blues but, given his recent performances against Man United and Tottenham, it's thought that Everton would like to secure his services before his stock rises anymore and are said to be ready to offer Leeds £2 million for the striker.
And Everton being pro-active in the transfer market would certainly make a refreshing change as the Blues would normally sit by in this situation and watch him move somewhere else...like with Matthew Kilgallon.
But one player that looks like he won't be joining Everton is Klaas-Jan Huntelaar.
The Dutch striker has opted to stay at AC Milan and fight for his place after, Holland coach, Bert van Marwijk assured him that his World Cup place was secure despite his lack of appearances for the Italians this season.
But isn't he just one of those players that your mates say is dead good because he netted 48 goals in the season they won the treble with Hull City on Championship Manager?
And, let's face it, he's hardly looked the part when playing for Real Madrid or Ajax!
Interact with us