Dundee Utd 0 - 1 Everton
Report of match Reporter Gary Maiden
Everton continued their 100 per cent pre-season record with a narrow 1-0 victory over Dundee United at Tannadice on Thursday evening.
Ross Barkley's close range header sealed the win for the visitors in the dying stages after another solid test for the Blues.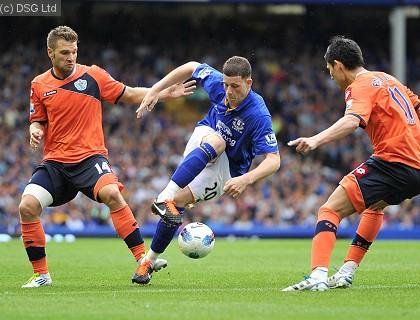 Clear-cut chances had been a rarity as the teams huffed and puffed throughout a match lacking in excitement but rich in benefit to the players.
And while drama may have been in short supply, the Blues were given a thorough workout in the first trip of their mini-tour north of the border.
The match had been put back 24 hours due to a waterlogged pitch which gave Everton's stars an extra break after their 4-1 victory over Morecambe on Saturday.
Francisco Junior looked lively throughout but was taken off for Barkley after being booked for a lunge that would have been given as a red card had it been in the Premier League.
Barkley was immediatley involved in the action as his cross skimmed across a crowded penalty area.
The youngster bagged the winner through a Seamus Coleman delivery to round off a productive night north of the border for David Moyes' men.
Follow Gary Maiden on Twitter @GaryMaidenEFC