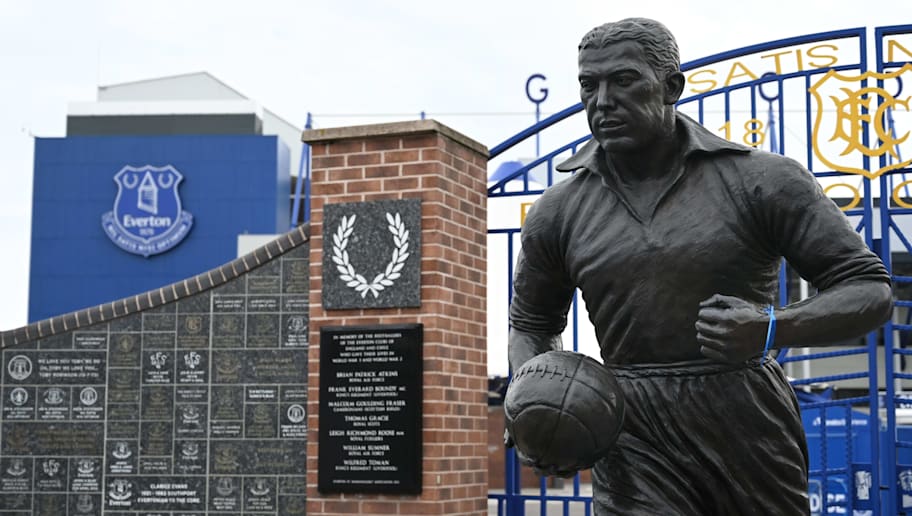 Everton have confirmed they are assisting Merseyside Police after a red flare was set alight and attached to the statue of Dixie Dean that is situated outside Goodison Park.
The club unveiled the statue of Everton's all-time top goalscorer in 2001 and many fans lay floral tributes at its feet. But over the weekend, the statue was targeted by vandals and the club have now responded by revealing their involvement in an ongoing investigation.
A flare has damaged the Dixie Dean statue outside Everton FC's Goodison Park ground. The statue sustained minor fire damage yesterday. Merseyside Police have been informed of the incident. Fans group All Together Now Everton Podcast posted these pictures: pic.twitter.com/Aydt0zcfN1

— BBC North West (@BBCNWT) July 6, 2020
In a statement, released on Everton's official website, the club said : "Everton is assisting Merseyside Police with enquiries in relation to a flare ignited on the Dixie Dean statue outside Goodison Park.
"We encourage anyone with information relating to this disappointing and disrespectful incident to contact Merseyside Police.
"Following inspection - and cleaning of the memorial and the site - we can thankfully confirm no permanent damage has been done to the statue of our greatest-ever goalscorer - or the floral tributes laid at the foot of the statue."

William Ralph 'Dixie' Dean scored 383 goals for Everton over a 12-year period, including a record 60 league goals in a single campaign. Dean passed away in Goodison Park after suffering a heart attack while watching a match against Liverpool in 1980.
The statement regarding the vandalism of Dean's statue was released shortly after Carlo Ancelotti's side were beaten 1-0 by Tottenham Hotspur in a desperately poor game on Monday night. That limp defeat was Everton's first loss since football's return - following the three month hiatus due to the coronavirus pandemic - leaving the Toffees 11th in the table.
Everton's slim hopes of Europa League qualification continue with the visit of a resurgent Southampton side next, who are fresh from victory against Manchester City, followed by a trip to Champions League-chasing Wolverhampton Wanderers.
Source :
90min